Cap M5-011-G
360.0 BYN per item
The company guarantees quality replica uniforms and field equipment. Note: The shade and appearance of the finished product may differ slightly from the photo presented on the site. Because the batch of fabric, leather, fur, your screen settings also can be sligth different.
We sew (install), purchased from us, undercollars, shoulder straps, buttonholes, chevrons, emblems, insignia on the ordered products - for FREE, at the moment. These actions are performed only if you explicitly specify in the product notes what, where and in what quantity you need to sew-install. If there are no such instructions, we do not take any actions with additional products. Please keep this in mind when placing your order.
Our products are made of quality materials and in order for these things to please you as long as possible, we ask you to study the article on the care of our products. Following our recommendations, you will preserve their appearance and properties and will be satisfied with them for a long time
Out of stock
Table of male clothes typical sizes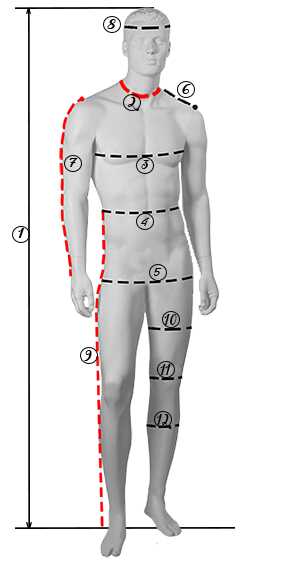 Please pay attention to the choice of size for your future product. Measure yourself on your own or using third-party help, according to the basic parameters indicated in the picture.
The more accurately you compare your sizes with those in the table, the more pleasant you will wear the item you purchased.
If you see in advance that you do not fit into the standard size, please order tailoring by individual order. We have extensive experience in manufacturing by personal standards and if we have the correct measurements of your figure, we will do the perfect thing for you.
To make a thing ideally suited to your figure, measurements are made in underwear (T-shirt, shirt) or without them. We need your clean size without additionally dressed items in the form of tunics, sweaters, vests, pants and other things. Appropriate tolerances are already included in the products you order. If you measure yourself in additional clothes, the product will be, probably, big for you. Please pay attention to this when taking measurements.
If you order an individual tailoring of a uniform, then you can download the form for an indo-sewing and fill out your measurements, attach it to an order, or send it separately.
If you have several orders, please do not forget to indicate for which order the dimensions are indicated in the file to be sent.
| | | | | | |
| --- | --- | --- | --- | --- | --- |
| Size, growth | EU size | Chest, cm | Waist, cm | Hips, cm | Neck, cm |
| 44 | S | 88 | 76 | 96 | 38 |
| 46 | S | 92 | 80 | 99 | 39 |
| 48 | M | 96 | 84 | 102 | 40 |
| 50 | M | 100 | 88 | 105 | 41 |
| 52 | L | 104 | 92 | 108 | 42 |
| 54 | L | 108 | 96 | 111 | 43 |
| 56 | XL | 112 | 100 | 114 | 44 |
| 58 | XL | 116 | 104 | 117 | 45 |
| 60 | XXL | 120 | 108 | 120 | 46 |
| 62 | XXL | 124 | 112 | 123 | 47 |
| 64 | XXL | 128 | 116 | 126 | 48 |
| 66 | 3XL | 132 | 120 | 129 | 49 |
| 68 | 3XL | 136 | 124 | 132 | 50 |
| 70 | 3XL | 140 | 128 | 135 | 51 |
| 72 | 4XL | 144 | 132 | 138 | 52 |
| 74 | 4XL | 148 | 136 | 141 | 53 |
| 76 | 4XL | 152 | 140 | 144 | 54 |